Introduction
Amid businesses trying to lessen paper consumption in their daily work processes, we cannot dispute the fact that printed documents are still relevant. Thus, printers are very much still needed in an office environment. But having different units for copying, printing, and scanning will take considerable space in the office. Good thing, Multifunction Printers (MPF) are now in the trend.
Body
The Multifunction Printer (MFP)
A multifunction printer is a piece of office equipment that serves primarily as a printer and copier. It aims to organize the overseeing, dispersal, and production of documents in a workplace.
Over the years, printer features have increased from a regular stand-alone printer whose only job is to print documents and can connect to only one desktop at a time, to a major role player in the office that can do multiple tasks intended for different machines. Nowadays, multifunction printers can connect to different devices through their many input options. There are still the trusty old wired connections but it now also includes a network connection that allows printing from mobile devices, memory cards, and email.
Output has also evolved from black-only prints to the introduction of coloured printing. Now, printers have the function of printing not just on regular paper but also on different paper formats (size and thickness), specialty papers, and plastic. Output innovation also includes faster printing speed and printing clearer and more detailed images.
Moreover, documents with back-to-back print have never been reproduced easier through the "Duplex Printing and Scanning" capacity of some new printer models. This feature allows users to print and scan on both sides of a page by manually turning the pages over.
New multifunction printers also include an automatic paper feeder that allows you to scan and copy multi-page documents without personal involvement. Stapling, hole-punching, size editing, and binding are also included in some models.
All these innovative functions mean that you can let the printer do the work and focus on more important tasks.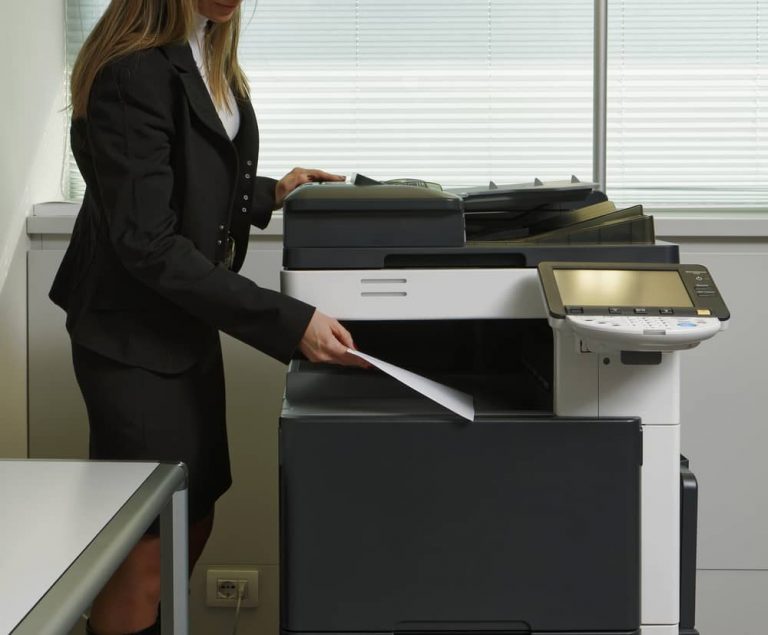 Why Your Business Needs a Multifunction Printer
If your office does not have a multifunction printer yet, these reasons may convince you to consider getting one.
Since a multifunction printer has all the functions you need in document production and duplication, you would not need separate machines to do your printing, copying, and scanning.
Another advantage of a multifunction printer is that your business can cut unnecessary electric consumption. You would also be able to save on maintenance costs since you can get multiple MPFs instead of having a unit for different purposes.
Having more machines that can do all the work lessens the demand for just one device; thus, you can avoid machine breakdown due to overuse. Moreover, productivity will not be hindered even if one of the units breaks down.
Functions like the automatic feeder, duplex printing and scanning, and network connectivity allow you to have a faster and effortless output.
Avoid Technology-Caused Issues
Having a digital copy of important documents makes organizing and filing data easier. But in instances where it is difficult to retrieve this information such as network issues, corrupted data saved, or malware infection on the system, it is still best if you have physical copies of your documents you can turn to.
Not everyone is already comfortable with getting digital copies of invoices, contracts, or advertisements. By keeping a multifunction printer in your business, you are giving your customers the option to pick what is best suitable for them.
Conclusion
There is nothing wrong with wanting to digitize your work processes for easy organization and access, but you should also not forget the good in things done the traditional way. Having a multifunction printer allows you and your business to advance technologically but still have physical support.
If you plan to get copiers for your office in San Diego, you can opt to buy copiers or lease copiers in San Diego We can give you the option to get the copier that you want.  You can contact our local copier leasing services department in your location.
If your Location is around San Diego, you may call us at (619) 268-4477, and our personnel for copier leasing in San Diego will assist you.   If you are also looking for copier repair services in San Diego you may contact our copier repair personnel at the same number.