In 1873, Konica was founded in Tokyo with its first venture selling materials for photography. After 30 years, they decided to develop their very first camera, and eventually, it's a one-of-a-kind paper copier. It was in 2003 that Konica and Minolta merged; the latter retaining its photocopier and camera manufacturing. In recent years, it has become a world leader in high-quality, high-speed imaging products and document management.
There are 160 countries that Konica Minolta is now conquering.
Why should you go with Konica Minolta?
User-friendly
Without a doubt, nothing can beat Konica Minolta's printers and copiers if we talk about ease of use. Most devices are manufactured with a big touchscreen interface partnered with well-labelled buttons for single-touch, easy copying, and printing. All of this brand's copiers operate through the bizhub open platform. This particular system offers features in a way that when you learn to run the equipment, you're also now ready to use all other models of the brand- regardless of whether it's a complex system or a simple all-in-one machine.
Innovative
Recently, Konica Minolta launched the Workplace Hub, its newest IT platform. If you have a simple all-in-one machine, the Workplace Hub will unify all of your IT needs in one central platform. Combined with this are advanced cybersecurity features, data storage, an HP enterprise server, a multifunction printer, and Wi-Fi access points. They also have a next-generation IoT (Internet of Things) enabled printer line, which they named bizhub iSeries.
Convenient
There are Konica Minolta models that carry with them iOption add-ons. This feature transforms a standard copy machine into a smart copier model with internet access. Its web browser is the LED display and it's also your access to uploading documents straight to their web page and database.
Efficient
All of its models are designed with print management features. Basically, this will allow the users to create printing restrictions, track printer usage, utilize the user authentication feature, and make sure that printing can only be done with only the printer in charge.
Sustainable
One of the best offers of Konica Minolta models is its environmental track record. In fact, this brand is the first ever company to be awarded the Blue Ecolabel Angel in the copying industry back in 1992. Inspired by this, the company came up with EcoVision 2050 in 2009, aiming to reduce carbon dioxide emissions while using their models. Moreover, they are also under the Dow Jones Sustainability World Index umbrella consecutively.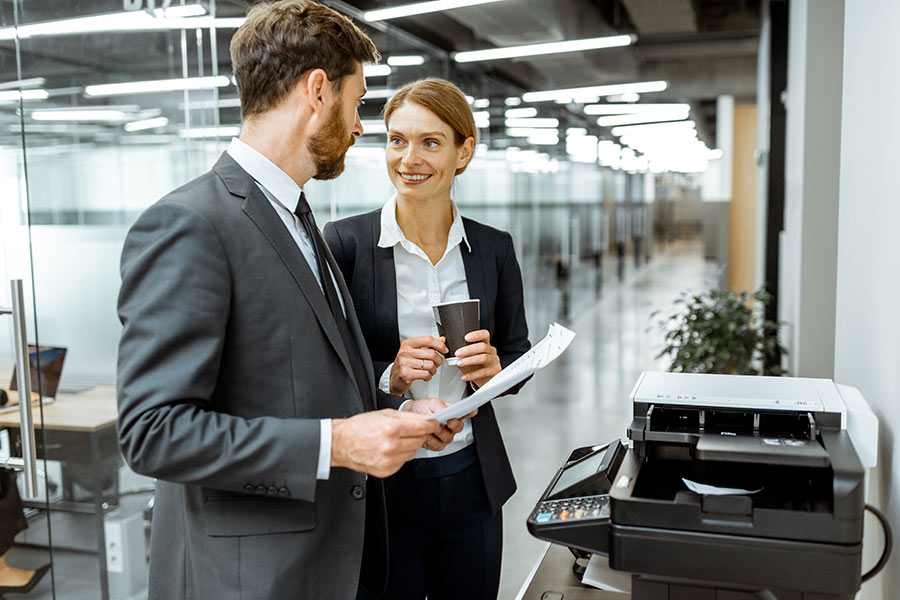 What Konica Minolta model is the best in the market?
Konica Minolta 1600W Magicolor Review
The best feature of this model is its Print quality– without a doubt, it's high-quality, especially with illustrations, shaded charts, and photos. Unlike most other laser printers in the market, this model does not produce shiny outputs although you can have this finish if you adjust printer settings. The coloured outputs can be glossy with sharp text even with tiny fonts.
The driver installation is interestingly difficult to set up. One great tip when installing is to wait for the printer to initialize, then connect it to the PC. Konica Minolta 1600W Magicolor features a Remote Panel utility that has the same controls on its front panel. The remote panel will show the printer status and show available portals to a wide range of management tools, which include consumable monitoring and energy-saving options.
Konica Minolta 4695MF Magicolor Laser MFP Review
For workspaces, a good all-in-one printer has to be heavy-duty and robust. Konica Minolta's 4695F Magicolor is perfect for this purpose.
The 4695 Magicolor weighs 55kg with a huge footprint. With its feature line-up, some critics are questioning its bulky and heavy design. Due to its size, its multipurpose output tray is wide and has the capacity of 100 special media sheets. Its consumables, on the other hand, can be accessed from its front panel. Each of the colours comes with its own drum unit with the transfer belt and fuser on the side. The service maintenance of this Konica Minolta model is recommended to be at 120, 000 pages.
Is Konica Minolta for you?
Konica Minolta is great for organizations, which are on the hunt for reasonably priced solid machines. While their line of copiers isn't top-rated in features, churches, small businesses, start-ups, and non-profit organizations can benefit hugely from them. 
If you plan to get copiers for your office in San Diego, you can opt to buy copiers or lease copiers in San Diego We can give you the option to get the copier that you want. You can contact our local copier leasing services department in your location.
If your Location is around San Diego, you may call us at (619) 268-4477, and our personnel for copier leasing in San Diego will assist you. If you are also looking for copier repair services in San Diego you may contact our copier repair personnel at the same number.