Some people would take time to think twice or more than a few people who easily add to a cart for things they wanted to buy. But business-minded people don't. They are smarter and consider few things. They don't rush in buying things they would likely regret afterwards.
Buying an office copier or printer is not as easy as you think. The features and specifications are just a few of the things you have to think twice about. Here are some things you should know about before buying one of them.
10 Guidelines for buying your office copier or printer:
Features
You can choose a variety of copiers or printers that fits your office' need. Think about the service it could provide in your business. Thinking about this, be specific about the details in its features, whether you need something complex or just simple to make things done.
Speed
Copiers and printers have a warm-up speed capacity of at least forty-five seconds. The faster it works, the greater production it could make a business save money and be profitable. Choosing a machine that could speed up the job more than usual would be much of an advantage.
Layout
The colours in the printing layout attract more customers to appreciate the service, and so help in the business' success. It could tell the quality of the printer. It is an important factor you have to consider if you want to gain customers' trust to recommend your service to others also.
Budget
The cost of the copier or printer must be considered because it may affect the speed of the printer and its paper size, or the type of copies whether black or white in its production.
Productivity
The size of the printer will also measure its production. Having sharper construction, it can produce beyond capacity. The printed volumes that it may produce would always mean profit for your business.
Technical support
Copiers can be considered to be sensitive machines. Try to check if the manufacturer offers its service within your area. It is one thing you should keep in mind once your machine needs some assistance.
Warranty
Machines undergo malfunctions, that's why you have to make sure that it has a warranty assurance. This is true especially after buying an expensive machine such as a copier or printer, you have to avail of at least a one-year warranty.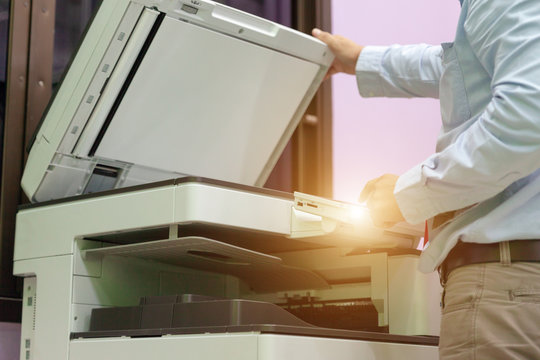 Sizes
Multi-function devices are the most reliable to achieve greater performance in terms of speed and capability during production volumes. Its wide formats make it more equipped to print wallpapers. The wide format copiers are best for marketing and promotional materials.
Ease of Use
There are always new models of copiers and printers which will arise along with digital technology. How it is easier to use is one factor to consider when buying a copier or printer for your kind of business. But there are still old models that have their benefits. Try to check if your computers with new operating systems are compatible with the old copiers.
Colour or B&W
It is also an important factor to decide which could be the better choice. Colour machines are more expensive because the prints are much better also.
CONCLUSION
A copier or printer is a vital tool of equipment in an office. Consider the factors depending on your kind of business, whether it is for production or just to assist the filing of documents and other related materials. Smart buying takes time but it is better than regretting the wrong choice.
If you plan to get copiers for your office in San Diego, you can opt to buy copiers or lease copiers in San Diego We can give you the option to get the copier that you want.  You can contact our local copier leasing services department in your location.
If your Location is around San Diego, you may call us at (619) 268-4477, and our personnel for copier leasing in San Diego will assist you.   If you are also looking for copier repair services in San Diego you may contact our copier repair personnel at the same number.